We provide the best brake shoes in the world.
-Year 1996: obtaining National boutique Award and Golden Ball Award.
-Year 1996: Certified by TUEV and ISO 9001
-Year 1997: Continuously obtained the first award of Brake Group in Taiwan Innovation et, rutrum et, tortor
【使用振興三倍券消費(團購)選手級產品,享超低折扣】
SCS Wisdom Rotor
PATENTED:
P1.Demountable and replaceable 2-piece rotor
P2.Aerospace anti-loose mounting bolts
P3.Rotor outer ring w/worn out reminder
PFEATURE:
Save about 50% replacement cost

45% lighter than conventional rotors

Excellence heat dispersion performance

Avoid disc warping at high temperature

High strength configuration with precise CNC machining process

Dual color for great aestheticism

Made in Taiwan

SPEC:

Diameter: 160mm / 180mm / 203mm

Material: inner spider: alloy 7075; outer ring: stainless steel 410

Inner spider color: Black/Red/Yellow/Blue

6 aerospace bolts included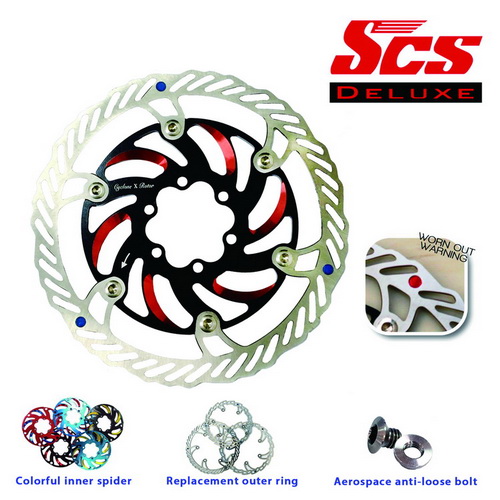 ---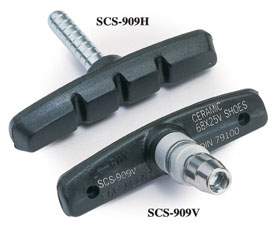 Since 1987 Sun Chang has been a leader in the ongoing technical development methods of making bicycle brake shoes. Under the patronage and encourage from 461 buyers all over the world, our motto is to upgrade our products day and day to fullfill our customer's full satisfaction and requirement. At the meantime, to surpass consumer's expectation as our goal by our constant diligence. We are honored to have the following performance. Furthermore, we shall do our outmost efforts to feedback more to our product consumers.
Product Tournament since the year and own the patents in the countries of Taiwan , EU , USA , Japan , Germany , Italy , China , Malaysia . We also own following total 20 items of No. 1 for both 14 items in the world and 6 items in Taiwan .
World No. 1:
(1) Declined type brake shoes
(2) The best dry temperature; bilateral usage brake shoes for both steel and Aluminum frame
(3) Intelligent type brake shoes automatically reminding to change new one
(4) Nano-Ceramic brake shoes
(5) ABS functional safety brake shoes
(6) Rainbow (7 colors) brake shoes
(7) Producing super 7 safe oil compressing liquid to endure high (low) temperature and moisture.
(8) Anti-Static brake shoes
(9) Double layer two color brake shoes
(10) Intergraded-brake-light brake shoes for bicycle
(11) National Flag for the brake pads
(12) Nan-Teflon inner wire (6.5 time to the current best black Teflon inner wire)
(13) Certification through the DIN 79100 Plus (MTB) brake pads
(14) The all new 2011 production-SCS Hydraulic disc brake(The first innovation system in the world-never substitute the hydraulic pressure oil)

10 times more safety,
3 times more comfort,
2 times more life,
It is the expert's favorite.